Photo reblogged from BEANFIELD with 183 notes
Photo reblogged from Visualgraphc with 58 notes
Oh this is great!
On location it is really striking. What a lovely way to welcome guests.
I love that it's been made using small mosaic tiles. I just want to reach out and touch the lettering on the wall! 
Thanks for the original posting visualgraphic:
Photo reblogged from Visualgraphc with 97 notes
Oh wow. Literary map of UK.
This is really well done!
Designer is Geoff Sawers
Photo reblogged from Visualgraphc with 299 notes
Photo reblogged from Visualgraphc with 358 notes
"Good Things Come To Those Who…" 18X24 Poster

Submitted by serifsandsans.tumblr.com
Photo reblogged from The Black Workshop with 7,808 notes
Source: banfred
Photo reblogged from pushing pixels with 4 notes
Found… #flower #pause #walk #nature (Taken with instagram)
This pinterest board, Ceramics, by Williams Design has reminded me how much a I enjoy ceramics. Such a dynamic medium and how diverse and beautiful the results! 
These are a few of the treasures pinned on the board.
My great aunt ran a pottery in Pitlochry Scotland way back when… I got to play in there with her when I was really young. Then, we were friends with the owners of a pottery in Cromarty where we lived during my High School years. I took evening classes there one year. I struggled to get the hang of centering the clay on that potter's wheel but I got really into creating pots by 'pinching' them into shape, now that was a lot of fun. 
Thanks to Williams Design at wabisabi-style for collating this display.
Source: pinterest.com
Post with 1 note
How great is this collection of hard covers! 
Two of my favorites are the covers for Oliver Twist & Gulliver's Travels.
Then there is the metallic embossed collection for F.Scott Fitzgerald. 
Compiled on Pinterest by penguinbooks.com Australia. 
Source: pinterest.com
Really inspired by the Libraries featured in this Book Riot post. I think if I were to design and build a house large enough, I would want to incorporate a library - although probably not as large as these are… maybe a cross between Diane Keaton's and George Lucas'? Although, Kwesi says he likes the simplicity of the top one. 
A place to to store your books, to be, to study, and also decorate with prints and paintings of significance. Libraries seem to be underrated in today's digital age. An interior space dedicated to reading and learning is valuable. Then again, my mother works as a librarian and my father used to be a university professor; I've probably got quite a lot of emotional ties associated with libraries!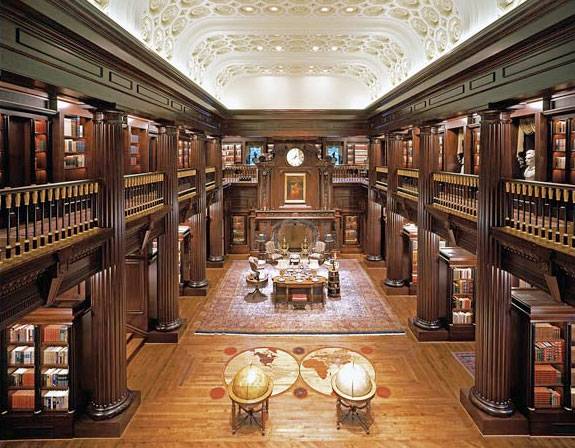 George Lucas' Skywalker Ranch Library
Diane Keaton's Library
Source: bookriot.com